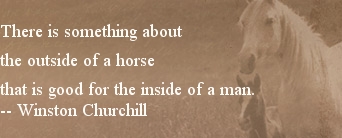 Located on Route 15 about a half a mile south of the back gate of Andersen Air Force Base. Rock n' Rail offers lessons on basic horse care, dressage, and jumping. We have a nice sized outdoor arena and a large grassy area for riding. Currently at the facility there are 10 horses. Ages ranging from 4-22 years old. Most of the horses are a cross of Thoroughbred and Quarter Horse.

Beginner riders welcome!

Pony rides available for younger children.

For more information contact Charlene at:

(671) 632-9677

(671) 864-9988

cten@guam.net

Lisa having a lesson on Sienna.

Elli and her best bud, Star.

Hannah has a lesson on Ali'i.